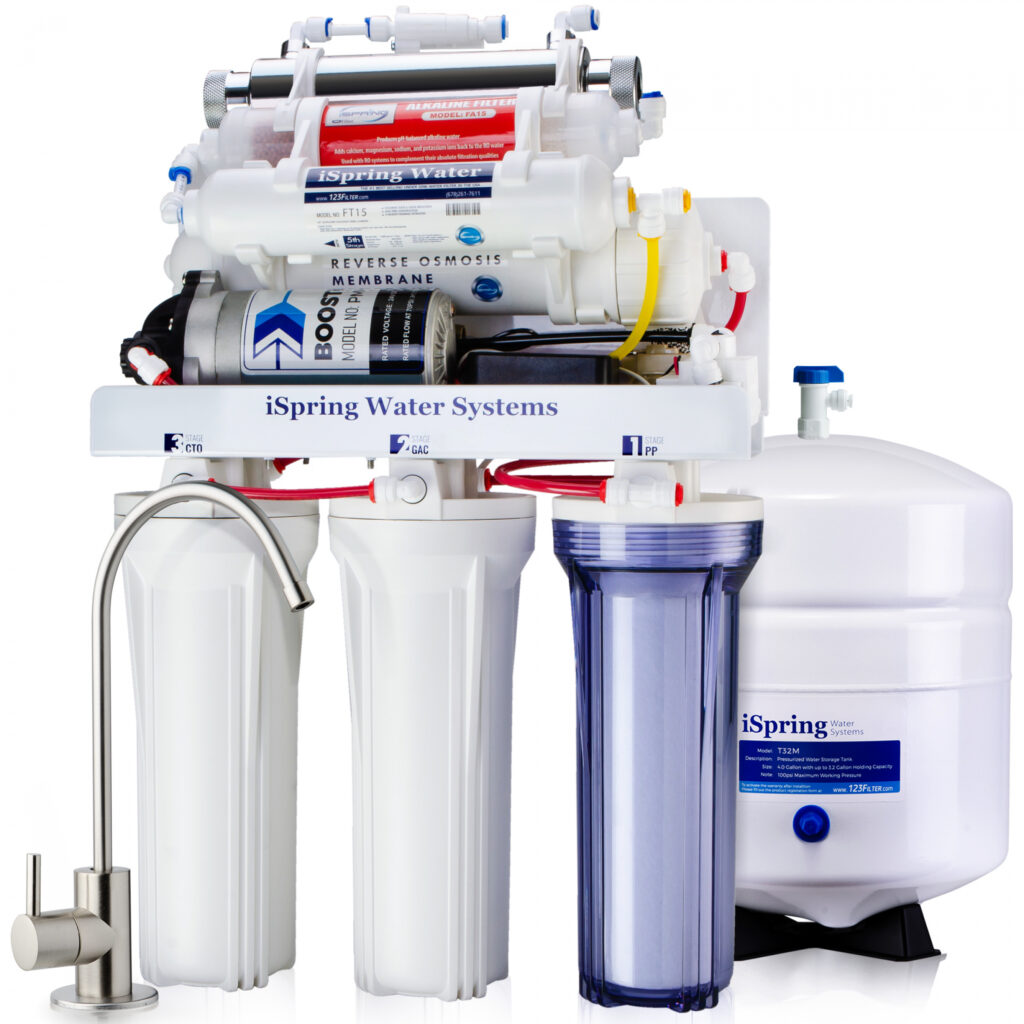 If you want Pure, Safe, Amazing Tasting, Bottled Quality Water, this is the filter to get!
Where to Get it
The RCC1UP-AK is a pressure-boosted, multi-layered filter system that removes over 1,000 different types of contaminants, including arsenic, asbestos, chlorine, hormones, fluoride, lead, mercury, sodium, and more.

ispring
A few months ago, we had a "boil water" advisory in our area. We're on city water not well water. For 2 days our city was on a "lock down" where restaurants had to close and people were advised to boil water before drinking or cooking, or use bottled water instead of tap water. It took about 5 hours for all bottled water to be emptied from store shelves!
That started me down the path of researching whole house and under sink water filters. My final solution ended up being a 3 stage whole house filter in combination with the 7 stage RO (Reverse Osmosis) under sink filter, both from iSpring. I also connected the under sink RO filter to the refrigerator water dispenser and ice maker.
You may wonder why a whole house filter and another filter for the kitchen. Because we're on "city" water, we have chlorine in our water – the whole house filter removes that as well as a host of other items (more on that here), but it does not remove fluoride or purify the water by killing viruses and bacteria. For the whole house, we now have water free from a lot of harmful chemicals and containments. The 7 Stage RO filter with UV (Ultraviolet) stage does remove fluoride, viruses, and bacteria: for drinking and cooking, we now have ultra pure bottled quality water.
The process of selecting a water filter was daunting. However once I started emailing companies and asking questions it was easy to eliminate several.
One thing that I learned during this process that I didn't know (and being Vegan I should know) is that some GAC (Granular Activated Carbon) filters use charred animal bone in their filters. I find this disgusting. This is also how sugar manufacturers make refined sugar white. One of the companies was proud of this and states emphatically that they use "select" animal bones – no thank you. Even if you're not vegan, drinking water filtered though animal bones should gross you out. Other companies use things like coconut shell. One thing to note is that animal bone charcoal will remove fluoride (at some level) while coconut shell carbon does not. However the RO filter removes fluoride and almost everything else too.
iSpring customer service (which is great by the way) assured me they use no animal products in their filters. Believe it or not, one company responded and told me they were not really sure what was in their carbon filters!
Get a Water Test!
iSpring customer service also suggested that a water test is needed before the whole house filter selection process so that they can properly recommend the mix of filters to remove any contaminants.
Does it Work?
Yes. The water tastes great. The ice from the icemaker tastes great. I've even had guests that I handed a glass of water comment how good our water tastes and I had not told them about the water filter. I tested the water with the iSpring TDS Meter (Total Dissolved Solids) and it was considerably less than the water going in:
TDS from pre-installation water test was 133 (which is pretty good), and now output from the 7 Stage RO filter is 33.
I don't like drinking out of plastic glasses now. Previously I typically drank out of plastic glasses but now I can taste the plastic – I've switched to glass only. Even more, previously I didn't really like drinking out of glass glasses because I would start to smell something I didn't like – almost fishy
What are the Seven Stages of a 7 Stage Water Filter?
Stage 1: Sediment Filter – removes large particles, sediments, dust, sand, dirt, and rust.
Stage 2: GAC (Granular Activated Carbon) – removes larger particles, chlorine and chloramines, tastes, odors, cloudiness, and colors.
Stage 3: CTO (Carbon Block Filter) – removes harmful chemicals, like chlorine and chloramines.
Stage 4: RO (Reverse Osmoses) Filter – 0.0001 micron membrane filters out almost everything except pure water!
Tank – after Stage 4, the water goes to the storage tank. This pressurized tank stores the water so that it comes out of the included faucet faster. Water does not move through a RO filter very fast – there are tankless reverse osmosis systems but their output at the faucet is slower. The tank gives you faster water on demand which is good. If you run the tank out, the output from the faucet will drop until it fills up again, but you can keep using it if needed.
Stage 5: Post Carbon – another GAC filter but with finer granules, adds a final "polish" to the water.
Stage 6: Remineralization and pH Filter – because RO removes almost everything from the water, it also removes minerals. This filter adds back essential ionized minerals, both for taste and your health. Contains half red mineral stone and half calcite, this is the stage that produces bottled-quality mineral water.
Stage 7: UV (Ultraviolet Filter) – utilizes a durable Philips UV lamp. Kills any bacteria or viruses. Turns on when water is flowing to the faucet.
What Does the Tank Do?
This system comes with a pressurized tank. Once you install the system and turn on the input water supply, water flows through the first 4 filter stages and then into the tank. If the output faucet is closed, water will keep flowing into the tank until the water pressure in the tank reaches a preset level and the pressure switch turns off the pump. The tank included with this system is a 4 gallon tank and holds around 3.2 gallons of water. By using a pre-pressurized tank, the output faucet flows much faster than if you were using the system without a tank. Water flows slowly through a RO system and the allows for much more convenience. After you fill up a glass of water or a teapot for example, you can hear the water keep flowing to refill the tank. Upon initial installation, or filter replacement, you're instructed to fill and drain 2 tanks of water. With the pump system this does not really take that long. After the tank fills, you simply open the faucet until the flow goes down to a trickle. At that point the tank is empty. You then close the faucet and wait until the tank fills, and then repeat. Without the pump, the instructions say it can take 2 hours to fill/refill the tank, I didn't time it, but I think with the pump it took 20 to 30 minutes.
There are under sink system without a tank, as well as counter top systems. I'm not sure you should use those to split the output between the included faucet and a refrigerator / icemaker as the output supply may not be enough.
Do I Need a Pump on my RO Filter?
The iSpring 7 Stage Reverse Osmosis Filter comes either with or without a pump. The pump does two things for you. It saves water, and it makes the tank fill up faster. A RO filter kind of "rinses" the RO membrane, my understanding is this makes it last longer. Without a pump I think the water to waste water ratio is 1:3, with a pump 1:1.5. With the pump it fills the tank up to 50% faster and wastes up to 50% less water.
What is Included in This System?
The complete filter system with all the filters, connectors, and tubing,
Leak alarm,
Faucet: This is a really nice, heavy, nickel plated brass faucet,
iSpring also includes some Teflon tape, and
Pack of extra fittings and o rings.
Additional Items That May be Needed
If you get the filter with UV filter and/or pump, you will need power available under the sink.
If you want to split the output between the included faucet and a refrigerator / ice maker you'll need more 1/4″ OD (outside diameter) polyethene tubing, connectors, valve, and fittings, or you can just get iSpring's kit. You can get these on the iSpring website or from Lowes or Home Depot.
If you intend to locate the filter more than a couple of feet either side of the sink, you'll probably need to get some additional 1/4″ OD (outside diameter) polyethene tubing and back to back connectors so that you can extend a couple of the tubes (supply, drain, and output) to make things work. You can get these on the iSpring website or from Lowes or Home Depot. I located the filter in a corner cabinet that was basically dead space and needed to extend the tubing about 2 feet.
Food grade silicone lube/grease (SuperLube – this is food grade even though the description says brake grease – if you look at the picture it says food grade). Use a small amount of this on the o rings and filter housing threads. This is awesome stuff to have around – you'll find lots of uses for it.
Installation Tips and Thoughts
Get a Water Test so you know what you're dealing with.
Read the instructions before starting.
Read the instructions again.
Watch some of the iSpring videos on YouTube.
Have a bucket or large pot and some towels handy.
I did not mount my system, I just left it sitting on the bottom of the inside of the cabinet and leaning against a shelf. We are planning a kitchen remodel in the next couple of months and I plan to make a better place for it, but regardless it's fine like it is.
You really have to push the 1/4″ OD tubing into the connectors to get a good seal.
Get some Food grade silicone lube/grease (SuperLube – this is food grade). Use a small amount of this on the o rings and filter housing threads.
Don't overtighten the Stage 1, 2, or 3 filter housings.