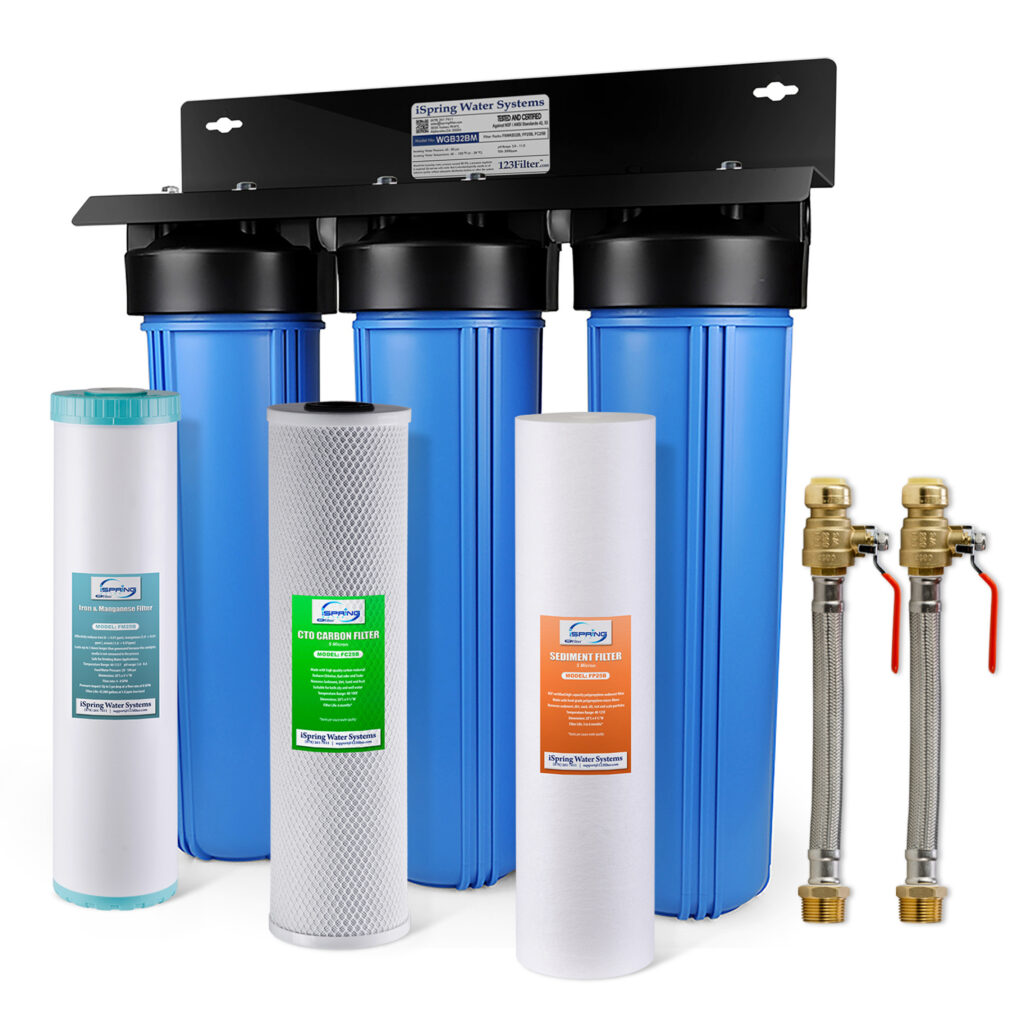 If You Want Safe, Contaminant Free Water for Your Whole House, This is The Filter to Get!
Where to Get it
This whole house system removes up to 95 percent of sediment, chlorine, chloramines, chemicals, heavy metals and other contaminants that create color, foul tastes and odors.

ispring
We recently had a "boil water" alert in our town. We're on city water. It turns out that that the alert was false and there never was any dangerous bacteria in our water supply (the city errs on the side caution when any of their test sites produces a positive test: upon deeper investigation the issue was local to 1 house where they had performed a routine test and was not in the city water supply). Still the issue pointed out the need to have a filter system at home that could produce clean, safe drinking water – since all the bottled water in our area was gone from store shelves in a matter of hours of the alert being issued.
I detail more of my search process in my post on the iSpring 7 Stage Reverse Osmosis (RO) Under Sink Filter. I ended up installing the iSpring Heavy Duty 3 Stage Whole House Filter and the Under Sink RO filter. This provides significant reduction in contaminants to the entire house, and bottled water quality (or better) water for drinking, cooking, and the refrigerator/icemaker.
Get a Water Test!
It's highly suggested to get an independent water test before selecting the whole house filter as you may have specific requirements based on what's actually in your water. Our water was pretty good, but when I sent the water test results to iSpring, their customer service recommended the filter combination that includes the FM25B iron and manganese filter. Prior to the water test results, I was planning on getting a 3 stage filter with 2 carbon stages: I didn't know I needed the iron and manganese filter! Get a test!
iSpring has really good customer service.
I exchanged several emails with them – they generally took around 24 hours to respond but always with good info and very helpful.
Whole House?
A "whole house" filter is installed where the water enters your house or plumbing system. In my case that is in a very shallow crawl space, some houses that will be in a garage or even in a closet in the house itself.
A "bypass" is generally installed around the whole house type filter system, so that if you get a major leak, or when replacing filters, or servicing the unit, you can still have water flowing to your house. The bypass consists of a manual cut-off valve on each side of the filter system and a pipe with a 3rd cut-off valve that goes around the filter system. In normal operation, the bypass valve is closed and the 2 filter valves are open. You can see this in the pictures of my system I've included.
What do the three stages of this filter do?
Stage 1 is a 5-micron polypropylene sediment filter. This filter removes dirt and other various larger-sized particles from the water that can clog the subsequent filters.
State 2 is a 5-micron CTO coconut shell carbon block filter. Block carbon is finely ground up carbon packed into a solidified block. This stage removes bad tastes and odors, in addition it removes up to 99% of chlorine from the water, and is highly effective on pesticides, herbicides, and industrial chemicals.
Stage 3 is an iron and manganese filter – The FM25B filter also removes heavy metals found in well water.
Do I Need a Plumber?
A plumber is not always required, but if you're not handy with plumbing, cutting pipes, using SharkBite type plumbing connectors with PEX type plumbing, you may want to get a plumber. You will also need to mount the filter system securely to something, so some basic carpentry skills are required.
What's Included?
iSpring includes the filters, housing, Teflon tape, and instructions. The kit I purchased also includes 2 3/4″ flexible SharkBite type connectors with valves (the sell the kits without these as well).
Additional Items You May Need.
Plumbing connectors / fittings / pipe to connect the filter system to your plumbing system at the point water enters your house. This should also include creating a bypass for the filter system.
Food grade silicone lube/grease (SuperLube – this is food grade, even though it says brake grease, read the tube, it's food grade). Use a small amount of this on the o rings and filter housing threads. This is awesome stuff to have around – you'll find lots of uses for it.
I installed water pressure gauges both before and after the filter – you can get these from iSpring, or, at your local home improvement / plumbing store when you're getting all the other connectors you'll need.
Depending on where you're installing it, you may need buckets to catch any stray water, towels, etc.
Installation Tips
Get a Water Test so you know what you're dealing with.
Read and reread the instructions.
Plan your installation at a time when no one in your house will go crazy because you've turned the water off for a long period of time!
Build the bypass – you'll be glad you did at some point in the future.
Food grade silicone lube/grease (SuperLube – this is food grade, even though the description says brake grease). Use a small amount of this on the o rings and filter housing threads. This is awesome stuff to have around – you'll find lots of uses for it.
Use a lot, A LOT of Teflon tape on the inlet and outlet threads. My first attempt, and I thought I'd used a good amount, had small leaks. After disconnecting I did maybe 10 or 15 wraps and had no leaks.
Don't over tighten the filter housings. After turning on the water through the system, you can dry and tighten these a little more if needed.